Messaging
XACT allows entrants, friends and familty to push and receive messages through their favorite social networks, via text message to their phone, or via email.
Real-Time
Messages are posted in real-time to all publishing outlets, including
Post-Race
Messages can also be sent out after an event is completed. This involves a simple file upload. We do the rest of the work - sending out all the alerts to the various publishing outlets.
Customization
Customization of messages is nearly unlimited, allowing changes by
Event
Subevent (e.g. Marathon and 10K)
Publishing Outlet (facebook, twitter, sms, email)
And even by EACH SPLIT
This allows the event or timing company to take advantage of a new marketing/sponsorship vehicle.
Of course, you can set up default templates for your timing company. Or, to make your life even easier, you can just use our default templates.
Facebook Alerts Appear on News Feeds
People can update their facebook status with their times, or times of friends/family, instantaneously
Content of message can include sponsor/event information and links
Content of message completely customizable
Links are also customizable
Content at each split can be customized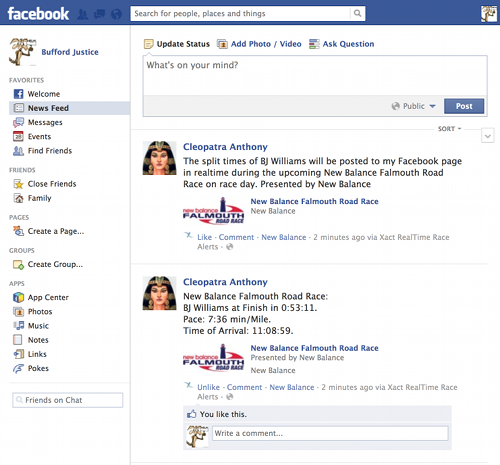 SMS - Xact Raceday Alerts
We send progress alerts to athletes and their friends/family during participatory sporting events.
Sign-up from your phone: Text LAM  <bib number> to get race day SMS alerts, E.g. LAM 101.
Msg & Data Rates May Apply. 10 msgs on raceday. Text STOP to 72147 to cancel messaging. Text HELP to 72147 for further info. You can also email support@xacte.com or call 800-830-0314.
Supported carriers include: AT&T, Alltel, Boost, Cincinnati Bell, Cricket, MetroPCS, Sprint, T-Mobile, U.S.Cellular, Verizon Wireless, Virgin Mobile. Our Privacy policy can be found here.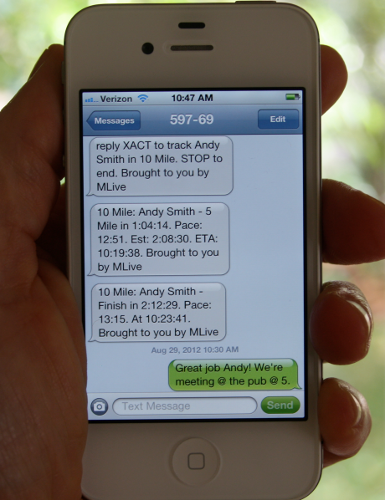 Email Alerts
Content of message customizable
HTML customizable
HTML and text emals delivered simultaneously
Custom From Address (you@yourdomain.com)
No Risk of Email Blocked by Spam Filters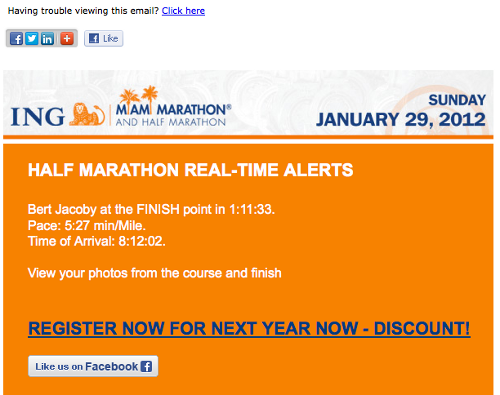 Events can set up to send out messages in real-time. The XACT platform pushes messages out instantaneously, as soon as entrants cross splits or the finish. There is no delay.
Mobile Site
Sign up for messaging
Instant Results
Leaderboards
Customizable Templates
Mobile App
Event Branding & Fully Customizable
100% White Label / Event Sponsor Friendly
Content Management System
Social Media Integration
Complete Xact Results Services
iOS (iPhone/iPad) and Android versions
Built-in QR Code Scanner
Timezone Aware
Check out our current app offerings here:
iTunes App Store
Google Play Store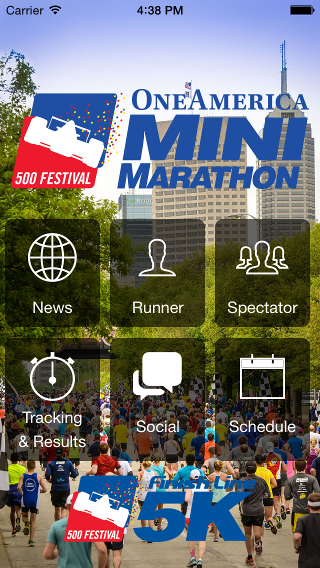 Live Results
Instantaneous Results without Any Work
Drop the HTML snippet on event page for complete customization
Learberboards
Age Groups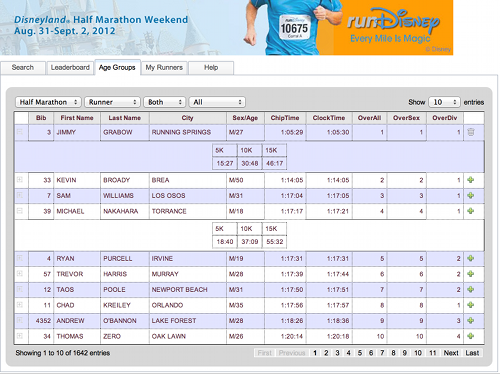 Live Medical Event Tracking
Checkin/Checkout Entrants anywhere on course
Customizable complaints/diagnoses/locations
Instant Access to emergency information
Database Access for local hospitals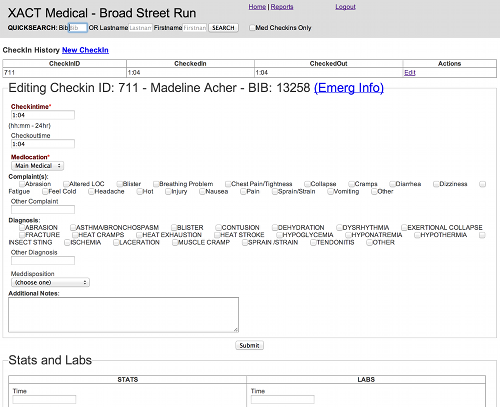 Track Entrants on Google Maps
Follow entrants along course in real-time
Progress automatically updated
Stats show up as entrants progress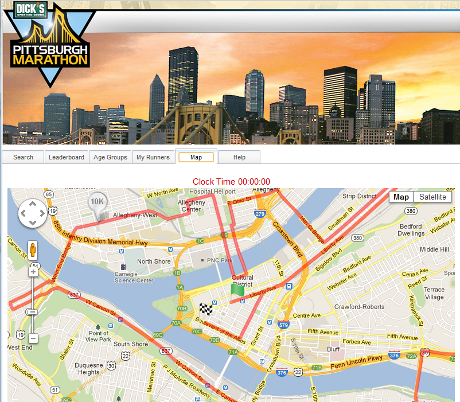 QR Codes
Print QR codes on bib
Entrants can scan and get results instantly